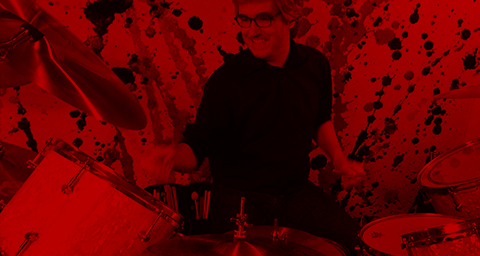 Born in Heidelberg, I Nicolas Unger am a drummer and drum teacher in southern Germany. I studied classical percussion, percussion ensemble and drumset at Hochschule für Musik Wuerzburg, Germany with Mark C. Lutz, Matthias Schmitt and Jo Nied.
My teachers were Michael Klein (Principal Timpanist of the Theater Magdeburg, Jochen Brenner (Principal Timpanist of the SWR Symphonieorchester) and Thomas Keemss (Professor at the Hochschule für Musik Saar in Saarbrücken, Germany and Professor for percussion and improvisation at the Hochschule Heidelberg (Faculty For Therapy Sciences).
I took further lessons with Dom Famularo, Jim Chapin, Claus Hessler, Udo Dahmen, Wolfgang Basler, Andrea Schneider, Nick Petrella, Wolfgang Haffner and Jan "Stix" Pfennig.
I played with bands and orchestras in Germany, Italy, Hungary and Spain and worked as a member of the Residenz Percussion Quartett with Jeff Beer and Mike Svoboda.
With the Residenz Percussion Quartett I won the 1st price of the Musikalische Akademie Würzburg, the 2nd price at the Hochschulwettbewerb Leipzig and was supported by the Yehudi Menuhin Foundation Live Music Now. With the quartet I´m featured on the CDs Percussion Around The World and the drum speaks (by Klaus Hinrich Stahmer).
I visited drum clinics given by John "JR" Robinson, Dave Weckl, Benny Greb, Danny Gottlieb, Sonny Emory, Dom Famularo, Elvin Jones (in N.Y.C.) Greg Bissonette, Anika Nilles, Adam Nussbaum, Todd Suchermann, Mamadou Diabate, Wolfgang Haffner and Jost Nickel.
At concerts and clinics I witnessed the playing of Jeff Porcaro, Steve Gadd, Wolfgang Haffner, Phil Collins, Bernhard "Pretty" Purdie, Vinnie Colaiuta, Jojo Mayer, Phil Rudd, Greg Bissonette, Rick Marotta (with Will Lee on bass), Steve Smith, Nicko McBrain, Larnell Lewis, Phoenix Arn-Horn, Fede Bernadi, Simon Phillips, Will Calhoun, Steve Smith, Marco Minnemann, Kenny Aronoff, Johnny Rabb, Travis Barker, Zorro, Jack DeJohnette, Al Foster, Trilok Gurtu, Alex Van Halen, Jeff "Tain" Watts, Will Kennedy, Jack Bruno, Joe Porcaro, Chester Thompson, Deen Costronovo, Jon Hiseman, Dave Weckl, Ludwig "Lui" Ludwig, Ralf Gustke, Marianna Bednarska, Frank Thomé, Peter Sadlo, Meinhardt "Obi" Jenne and Edgar Guggeis.
Jim Chapin commented on Nicolas Unger´s drum playing: 
"Nicolas, you are really excellent"