Music Fair Frankfurt 2016
DAY 1
Some things have changed this year at the Musikmesse in Frankfurt, Germany: Many drum manufacturers make themselves scarce. While the exhibition hall for keyboard instruments rests in itself like it always has and the exhibitors seem sure of their traditional craft and the hall with DJ-Equipment is full of bass heavy and vibrant energy, I won´t find the usual diversity of different drum and cymbal manufacturers like in past years.
This may have to do with the new organization and orientation of the fair – with me it is not clear whether it is the cause or result of the development: On all days every public is permitted. Previously only trade visitors were allowed to visit on the first days, before the general public took over the halls on the weekend.
Due to the immense volume at many stands, business talks were possible only under extreme conditions even on pro-visitor days. Therefore, a business area has been set up for business meetings including a auditorium for talks and lectures shielded from the bustle of the general exhibition space.
There seems to be a certain reluctance among manufacturers (due to the new exhibition concept?). Istanbul Cymbals is on site, Yamaha has its own (smaller) exhibition area and the cymbal maker dream from Canada is back. But too many expected manufacturers are missing: Sonor, Meinl, DW, Tama, Mapex, Ludwig/Musser, Paiste, Sabian, Zildjian, Vic Firth, Premier, Lefima, Gibraltar, Dixon, Pro Mark – to name those that come to mind spontaneously.
In past years Nicko McBrain played in the Paiste booth, Claus Hessler played at Sabian`s, Jim Chapin, Zorro and Johnny Rabb played at DW`s and Jack DeJohnette and Adam Nussbaum at Sonor`s and Simon Philipps at TAMA`s. One could hear Billy Cobham and could have a talk with him. A whole day in the drum hall was not enough to hear and see everything and everyone.
Back to the present! So if the big exhibitors do not show their instruments (have they all shifted their activities to own corporate events and to the Internet?) the small manufacturers have the chance to present their new products.
Manic Drum – With clamps for a variable and individual sound
I start with some photos and a short video. Notice the clamps instead of lugs!
The custom manufacturer MANIC DRUM comes up with interesting innovations: At their drums instead of lugs clamps are attached, thanks to which you may remove the hoop in no time, change the skin and – with the identical former tuning! – attach the new head again. Other innovative features are the multiple steps of the clamps, so you can tune a drum deeper with one or more clamps in a short time. The middle position of the clamps can be the standard tuning for a snare, providing the possibility to detune the drum head in both directions quickly and being able to reverse to any former tuning accurately. Depending on the drum´s diameter the rims consist of 4 or 5 pieces and is not solid. That´s why it can cope with the different tensions at each clamp. Each individual piece of the hoop may be made of a different material enabling different sound characteristics for sidestick and rimshot on the same snare! Interesting effect options should also be possible on the toms.
The system convinced me, especially with snare and bass drum. Many drummers play their beloved bass drum head for years only because they fear to not being able to recreate the exact same tuning. Now you can test different types of bass drum heads with your signature tuning!
And during a concert it´s possible to detune your snare in seconds and beging in full control of the amount of your actions. You don´t have to handle one or more tuning keys – but you could! A standard tuning bold is attached to every clamp. So fine tuning still is possible.
The other way around: You could have a standard tuning which is out of tune (all clamps in the same position, because you achieved it with twisting the tuning bolts) and you would get a completely in-tune drum head with the same tension at every clamp by choosing other positions of the multi-step clamps – something impossible at this speed with the Firchie snare which functions like a Roto Tom. You also can change a drumhead in under 30 Seconds but the mechanism has the same effect on every tuning bolt. To influence one bolt you need to use a drum key.
Convinced me at first glance! For a practice test it would interest me:
1. How sounds a rimshot? Update: I did not test it by myself. I listend to other drummers playing at the Manic booth. It sounded absolutely wholesome like on a snare equipped with a standard hoop.
2. How sounds a sidestick? Update: The full, round, transparent and very direct sound was projected equally in every direction and appeared louder to me than played on a standard hoop (perhaps because of the open construction of the Manic hoop).
3. Does the Manic hoop perform well over a longer period of time? According to the manufacturer absolutely yes! At Day 4 of the Musikmesse I made a photo of the rim of a test model which was played all the time. The hoop looked absolutely fine!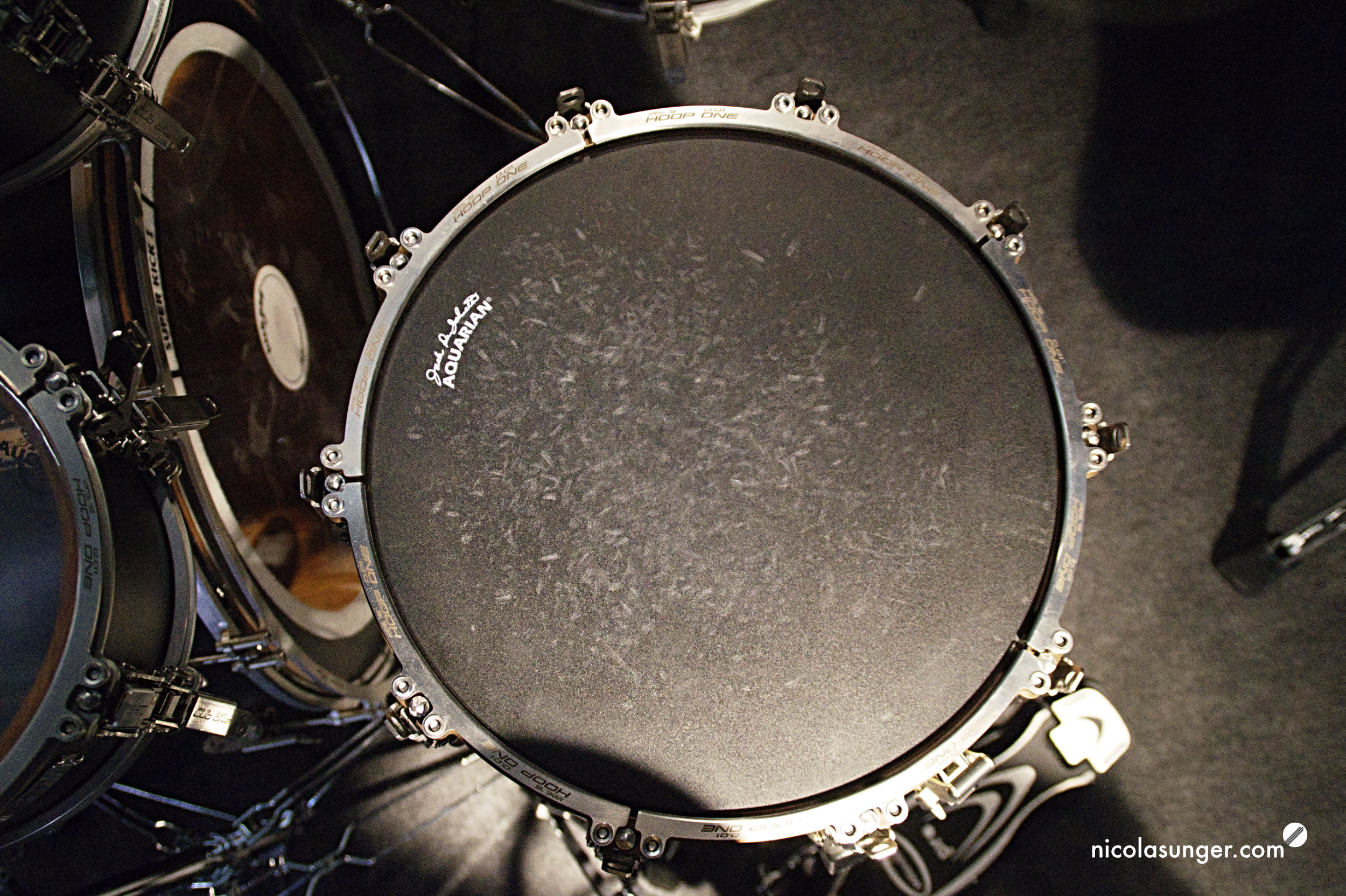 4. Do the clamps rattle when kept in the loosest possition?
Update: I did not test that by myself.
5. The snares are hold by a clamp also. How can I quickly change them?
Update: In the video above it is shown how easy it is to loosen the snares on the strainer side.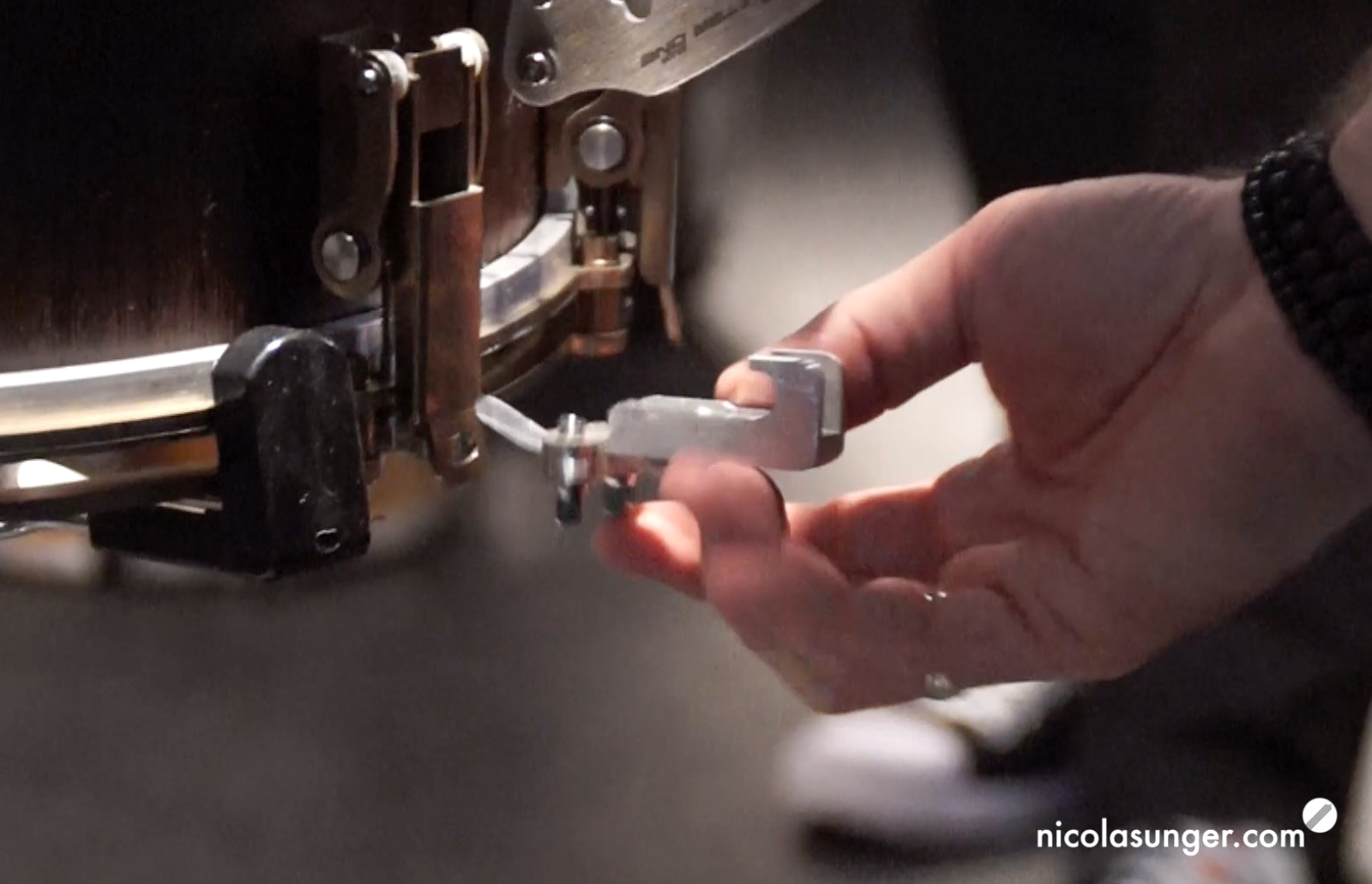 At the butt end side one has to loosen screws. All in all much easier than with a standard strainer and butt end.
I will drop by again tomorrow to take pictures from the tom holders. The holders at the side of the toms are stabilized by two metal pins and hold in place by gravity and magnets (floor tom). Taking off the mounted toms is very easy.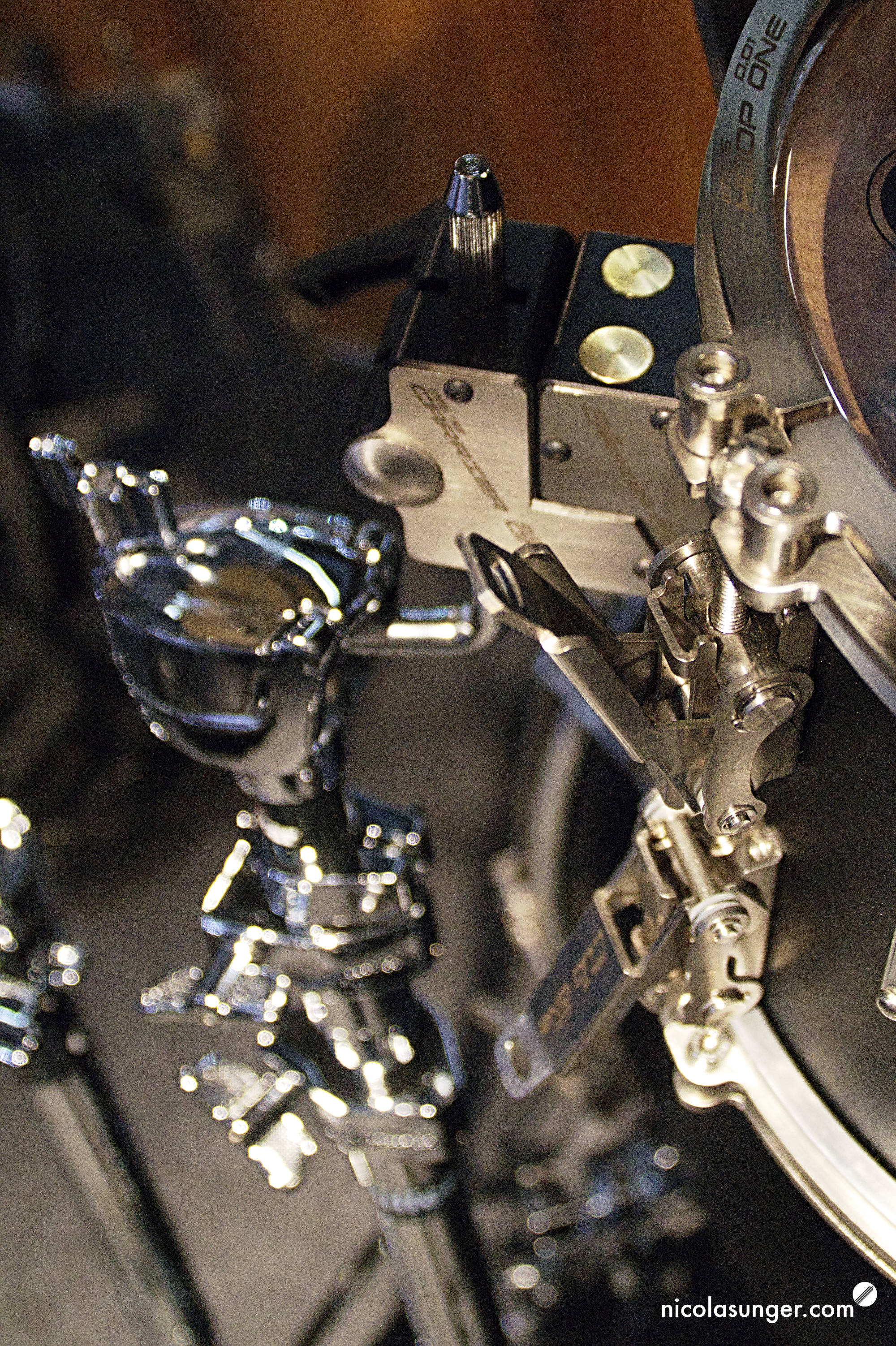 What happens with the floor tom leg when the tom is liftet?
Update: The floor tom legs are hold in place with magnets and are easy to release – a practical solution!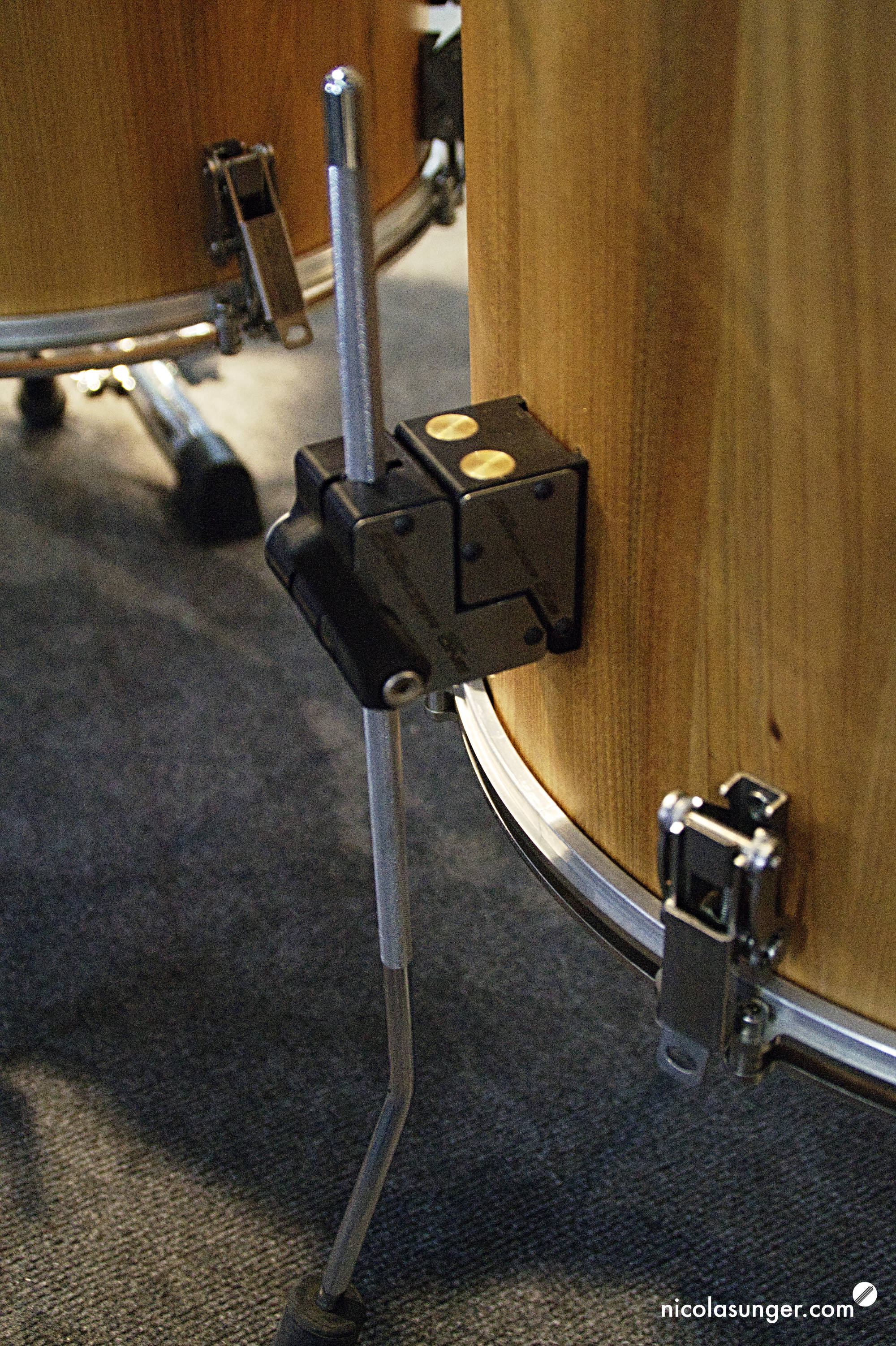 Conclusion: In past years one could observe little improvements here and there of many different drum components.
Now Manic Drum presents a big innovative step foreward and the most innovative system for drums in general this year and to my knowledge since many years.
NORD points in the future
Nord presents the new drum Module nord drum 3 . It´s extremly handy and seems almost fragile.
Some photos:
Blackwood replaces heavy precious woods
A very interesting and new type of wood is the so called Blackwood from the manufacturer of the same name. According to Blackwood the wood is a development of Dr. Branko Hermescec who worked on the development for the last 22 years. It´s softwood which becomes hardwood after chemical transformation. One could ask what is happening there exactly… Update: Had no time for that.
The density is on the same level as ebony and much higher than rosewood and maple.
The sticke produced from Blackwood are as heavy as typical Stocks used in an classical orchestra but are much harder and I hopefully more durable.
Only a practice test could verify my high expectations of this revolutionary material. Furthermore should there be stick models with smaller tips.
Here a photo: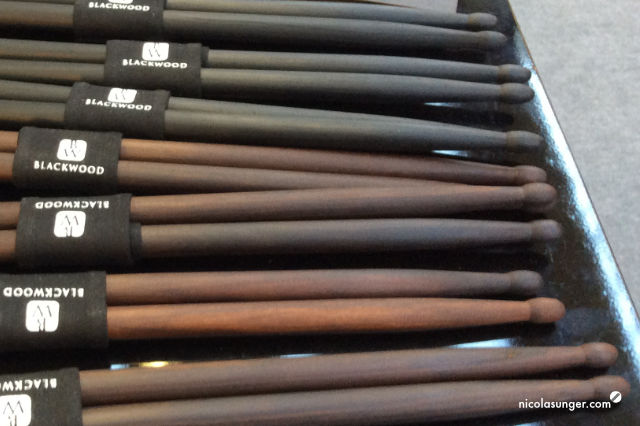 Polyend reverses the idea of MIDI
Polyend`s developers use live played signals which were transformed into MIDI-Data to play an acoustic drum kit via these MIDI-signals. They use new playing sensors: The impulses are played by small round pieces of wood flipping out of a black ball which is placed near the instrument and contains the electromagnetic mechanism.
So you can be accompanied by yourself while playing your acoustic drum kit or record your playing let the kit play by itself and add some other sounds to your song or loop with your own acoustic sounds.
NICE!
Photos and a video:




This is my report from Day 1.
See you tomorrow (-:
Nicolas Unger
www.nicolasunger.com
DAY 2
Today some drummers were on the move like Patrick Metzger, Claus Hessler, Wolfgang Haffner and Udo Dahmen.
Some live events cought my attention:
Anika Nilles played two songs and was interviewed by german nation wide radio station Deutschlandfunk. She talked about how she started playing drums and what her future plans are.
The whole event was recorded for the radio show On Stage tonight at 9 p.m. and it can be heard online after the broadcast tonight.
With power and groove Anika Nilles presented her Songs, which she wants to perform with her own band in the future. That`s the next logical step, she said.
Martin Engelien (bs) and Go Music played the Center Stage. The whole band had lots of fun! The players: Dirk Brandt (dr), PiTTi Hecht (perc), Yaelle Cinkey (voc, git).
German singer Gregor Meyle created a concert atmosphere in hall 8 and was feted by the crowd.
This is my report from Day 2.
See you tomorrow (-:
Nicolas Unger
www.nicolasunger.com

DAY 3
Day of the legends! Great musicians: Mikkey Dee and Leigh Howard Stevens – very different musicians but equally impressive personalities.
Mikkey Dee, former drummer of Motörhead and currently playing with Thin Lizzy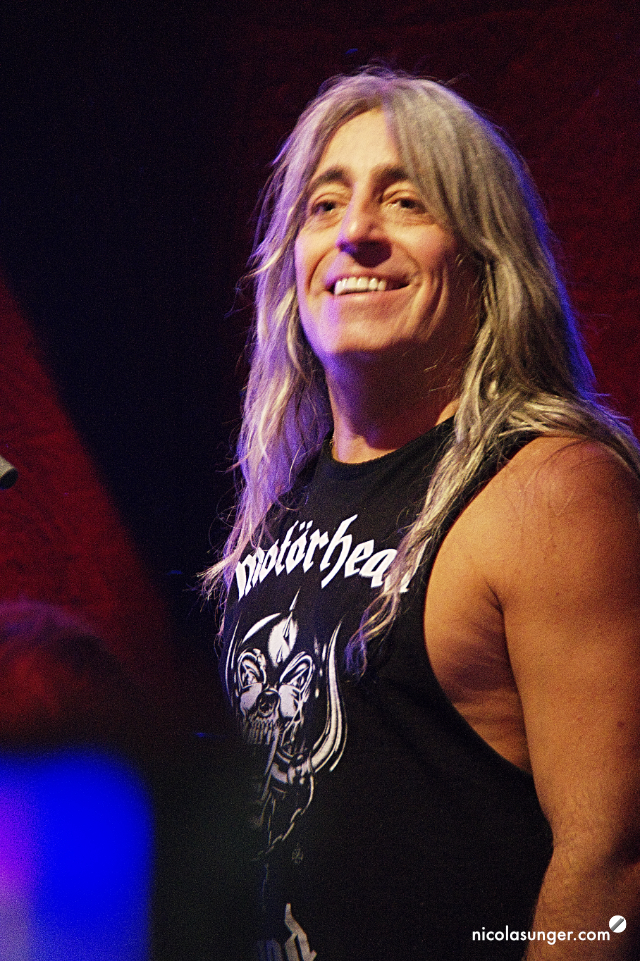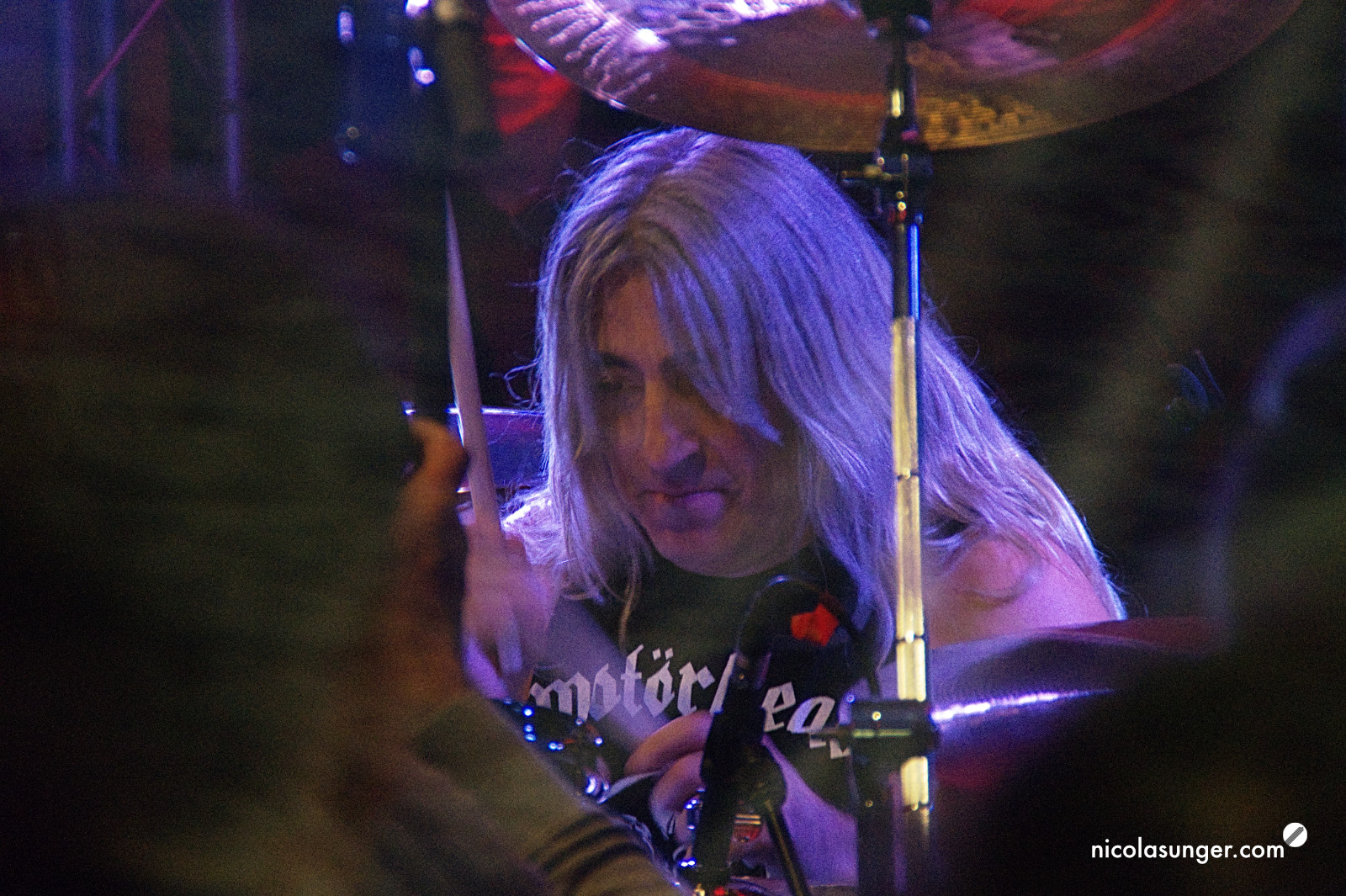 Mikkey Dee with Karl Brazil (Robbie Williams, James Blunt, Olly Murs, Jason Mraz etc.)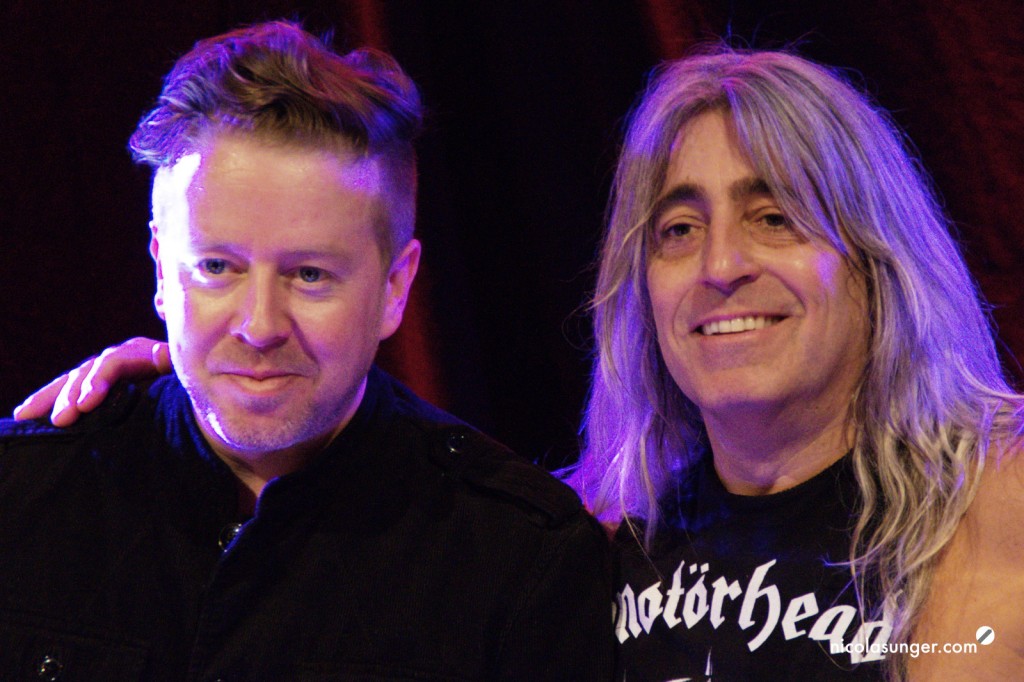 Karl Brazil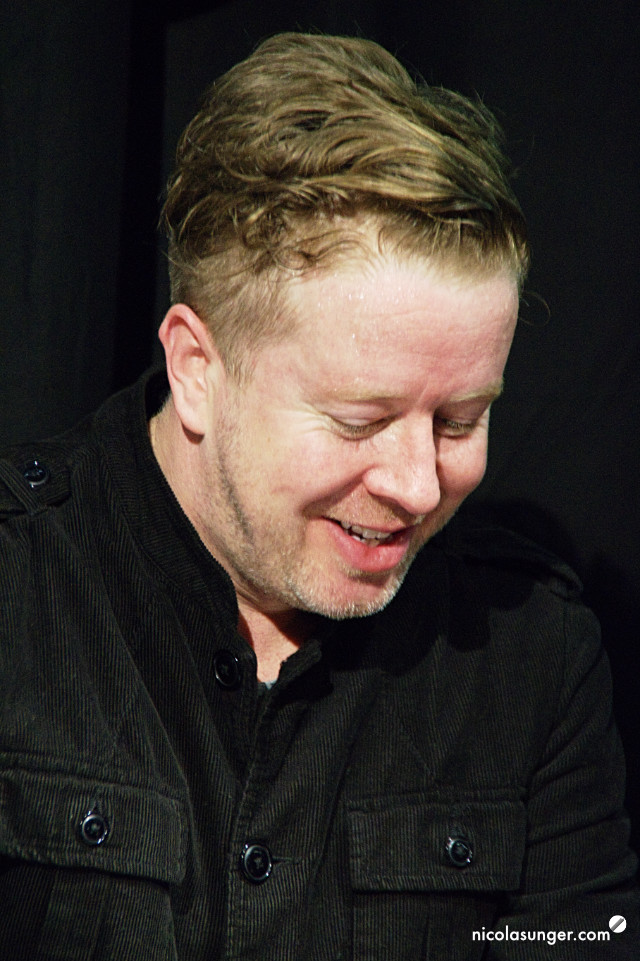 Rick Latham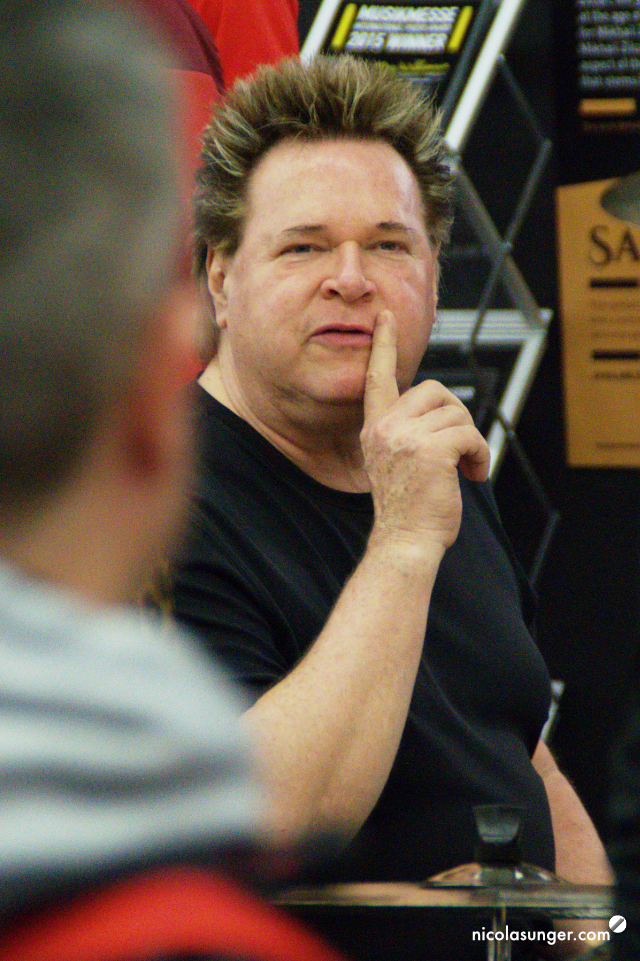 Marko Duvnjak (Andreas Gabalier)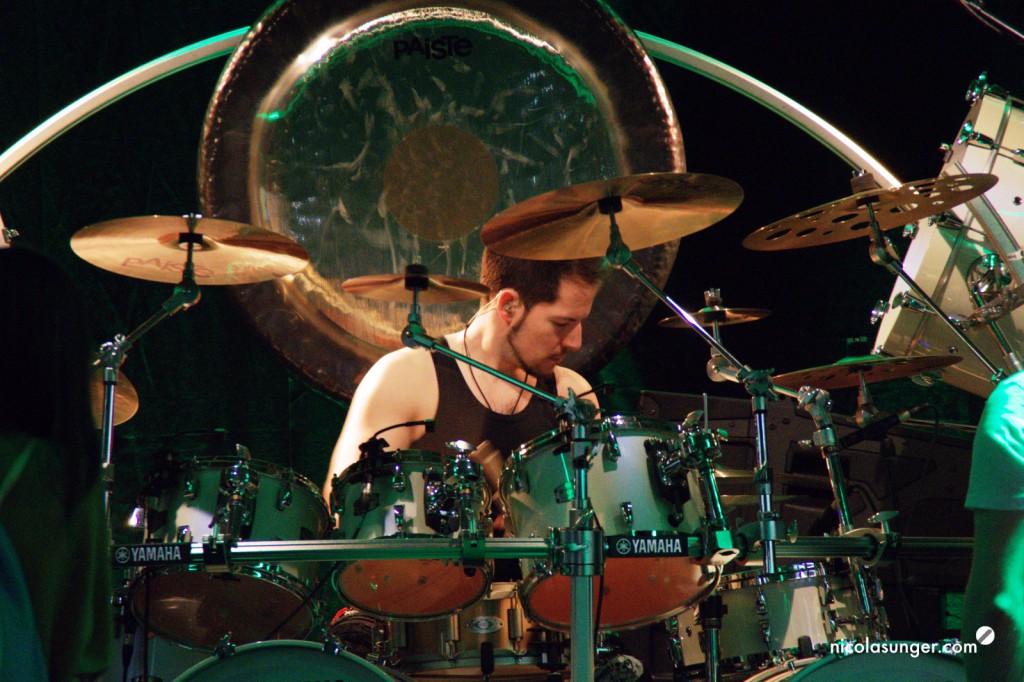 Conny Sommer (german Cajon guru)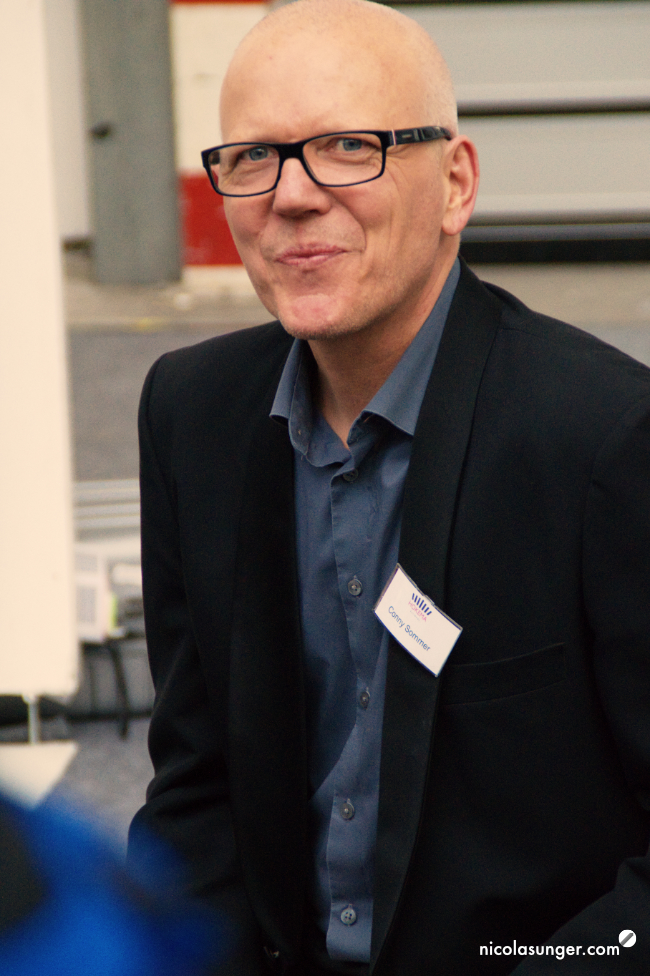 Mike Terrana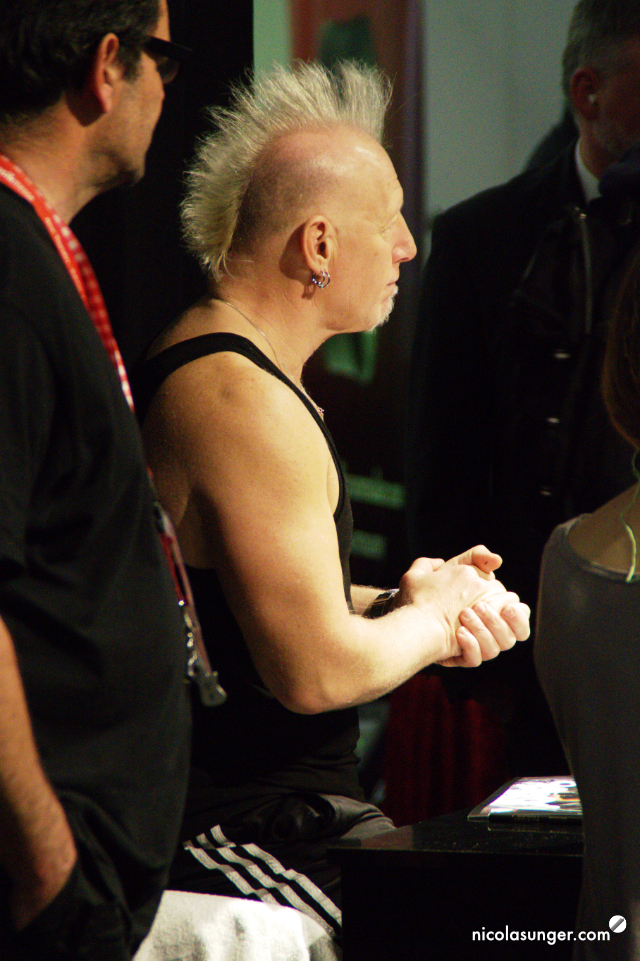 Glenn Tipton (Judas Priest)

Mille Petrozza (Kreator)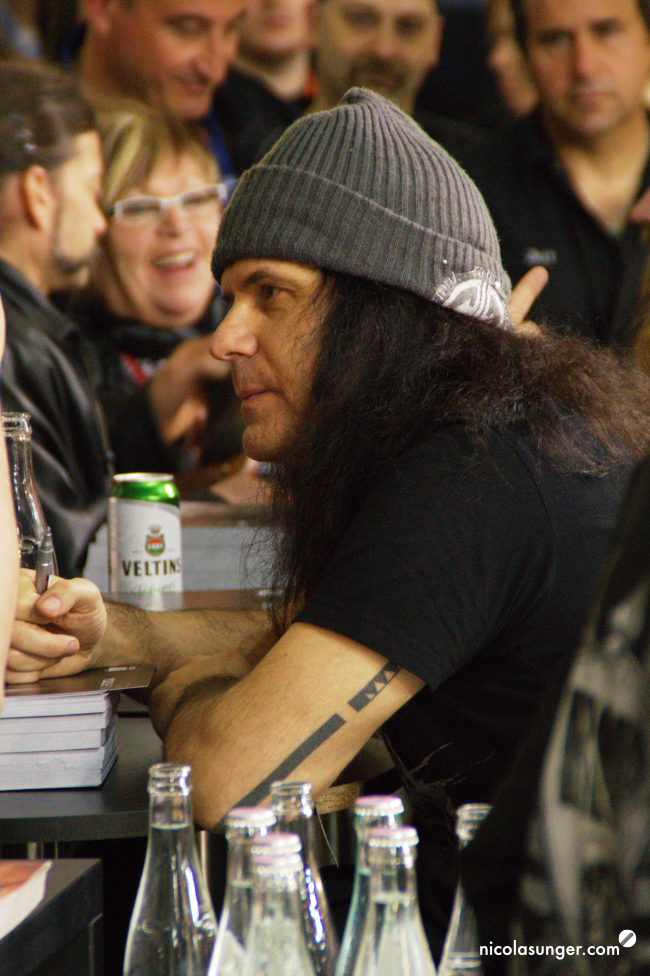 Chris Rörland (Sabaton)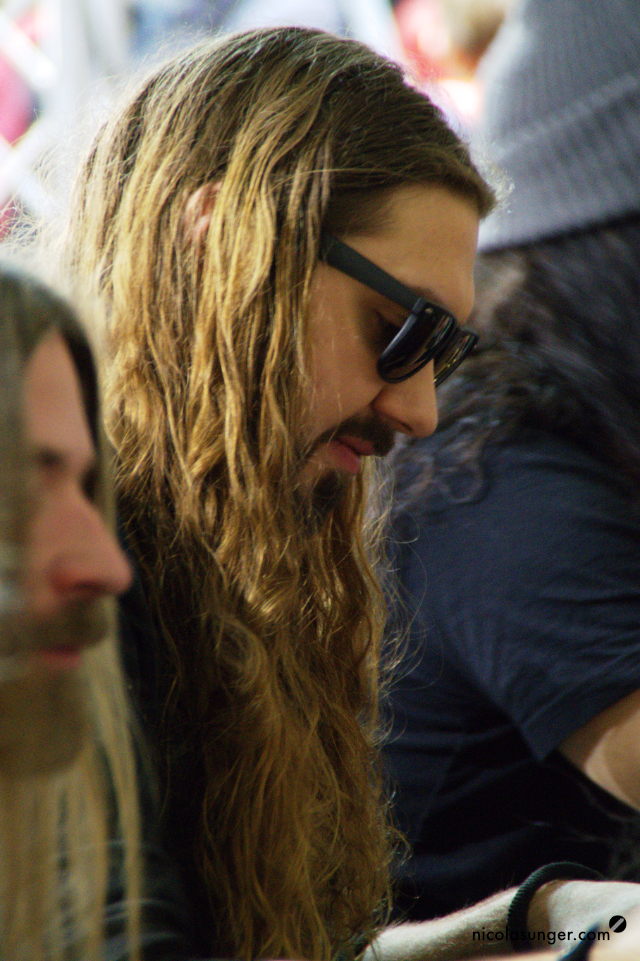 Pär Sundström (Sabaton)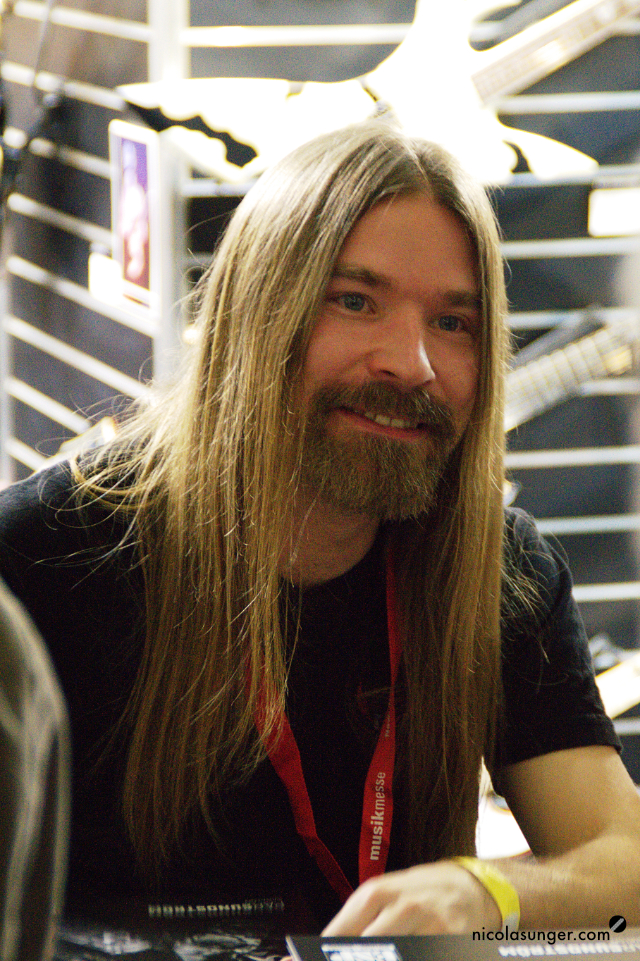 Phil X (Bon Jovi)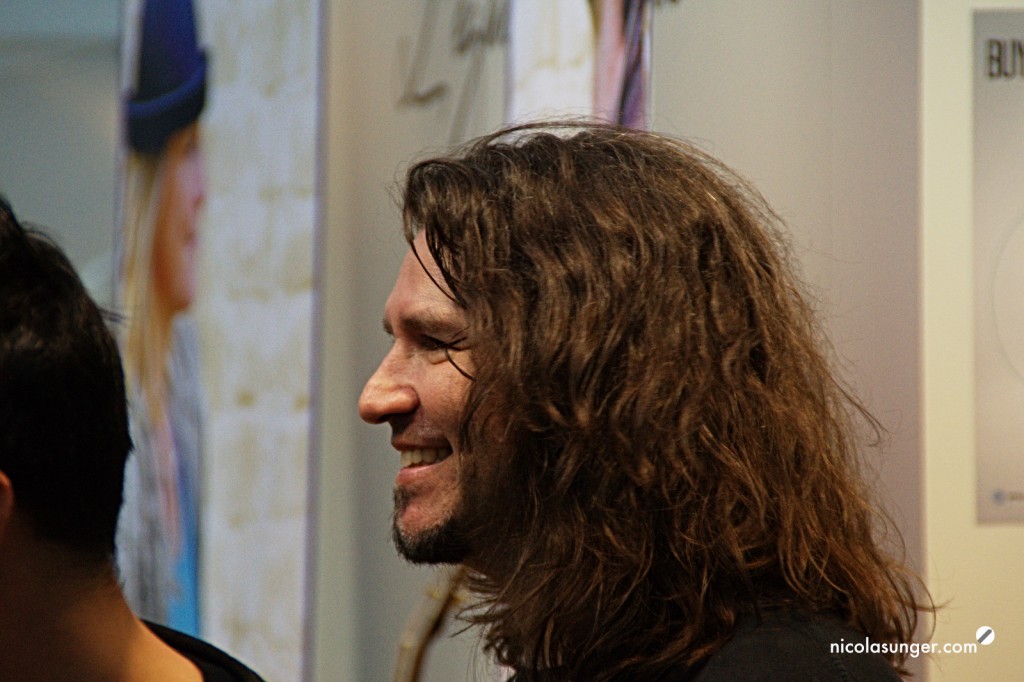 Konstantin Wecker received the Piano Player of the Year Award (Klavierspieler des Jahres)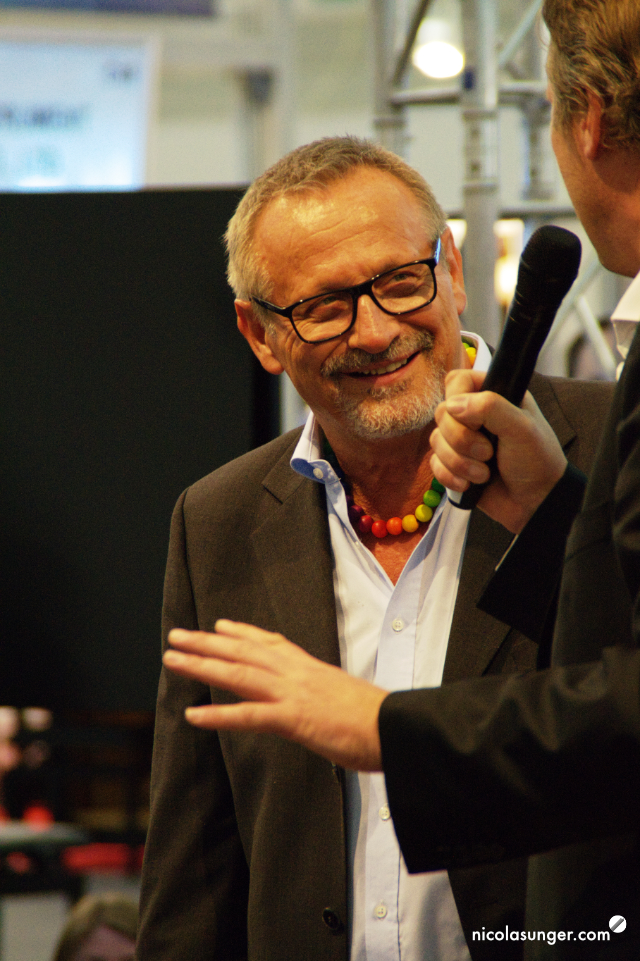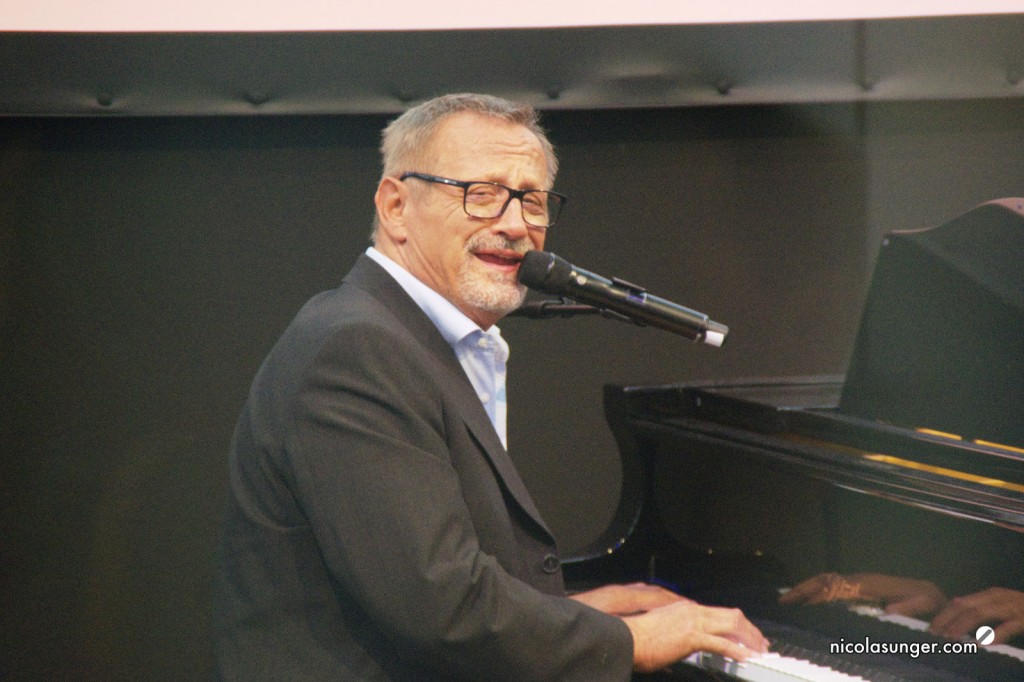 Peter Bursch, guitar teacher of the nation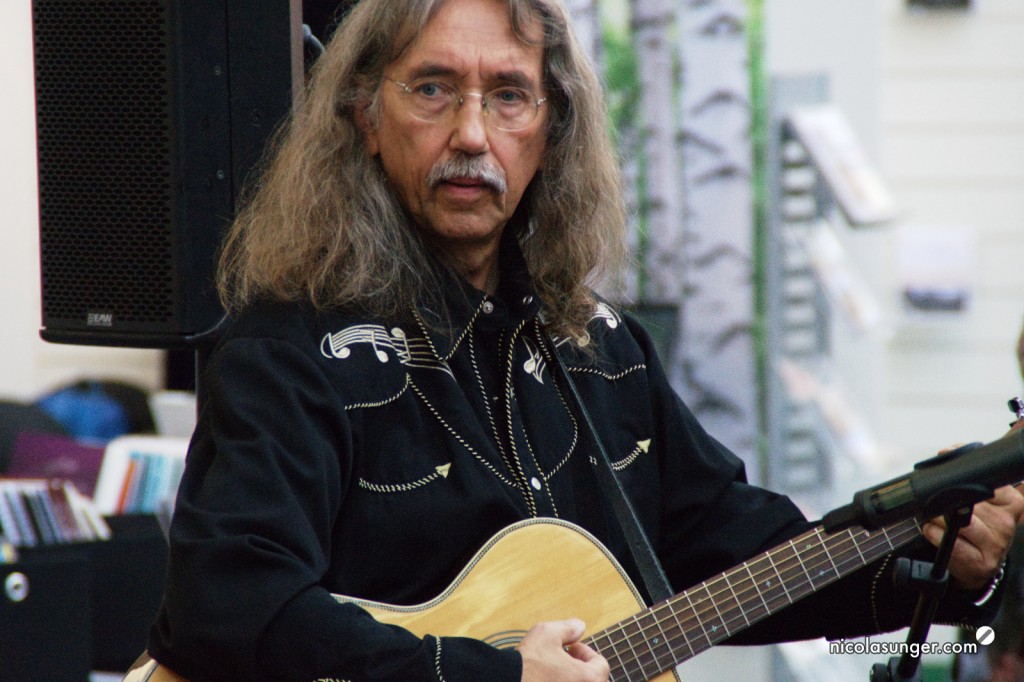 Prof. Dr. Barbara Busch presented a new book which she edited. Grundwissen Instrumentalpädagogik means "Basic Knowledge for Teaching Instruments" and the book was presented during her conversation with Dr. Frank Reinisch of the book´s publisher Breitkopf & Härtel. In 7 chapters the comprehensive book covers every aspect of teaching musical instruments.
On 480 pages 14 authors write in this guide for study and profession. A new standard reference for everyone who deals with music through teaching. Great!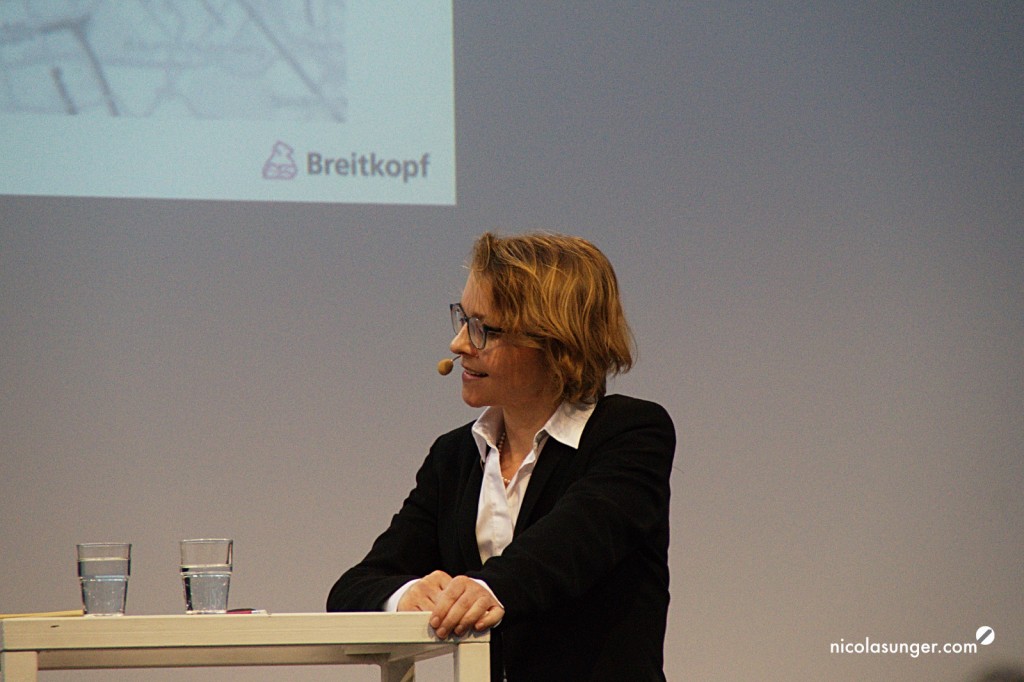 In conversation and a selfie with Leigh Howard Stevens: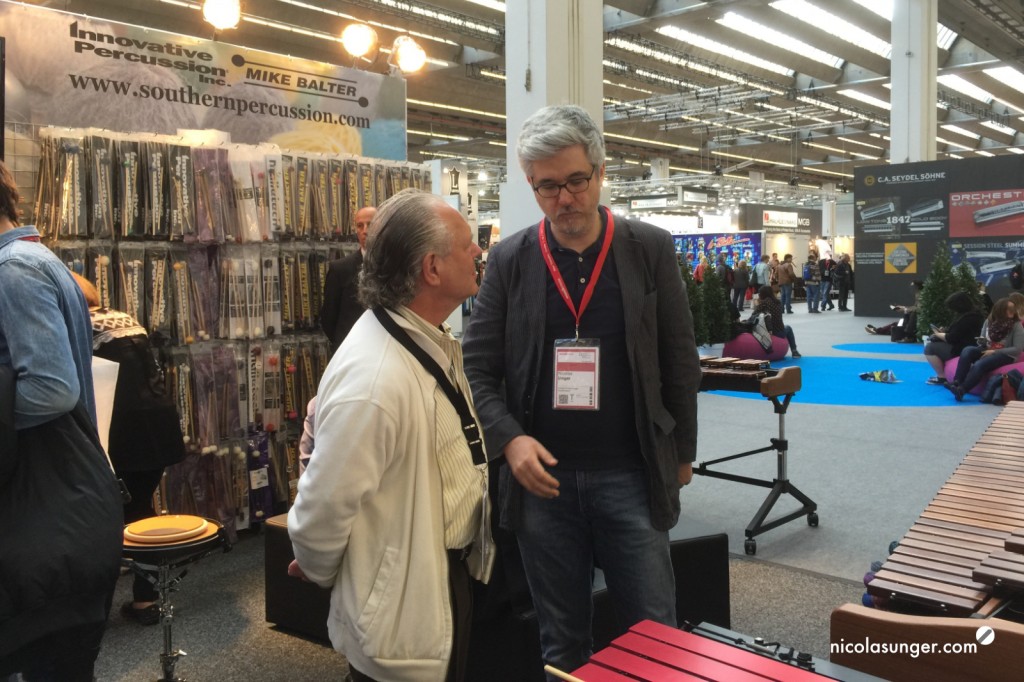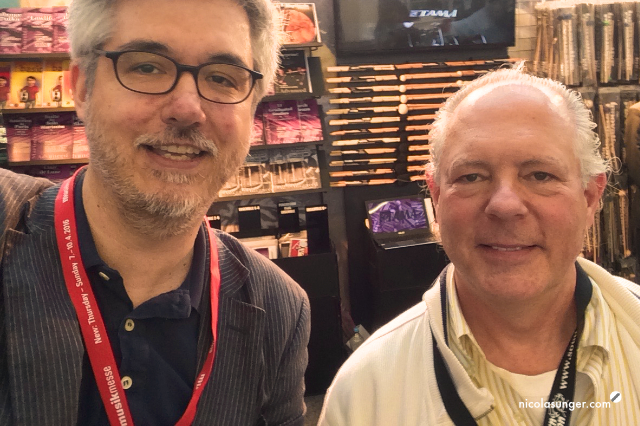 This is my report from Day 3.
See you tomorrow (-:
Nicolas Unger
www.nicolasunger.com




DAY 4
Here some photos from that day: Karl Brazil, Brian Tichy and The Dead Daisies and Paul Hochstädter (dr) and the "HR Radio Big Band" feat. Al Jarreau.
Karl Brazil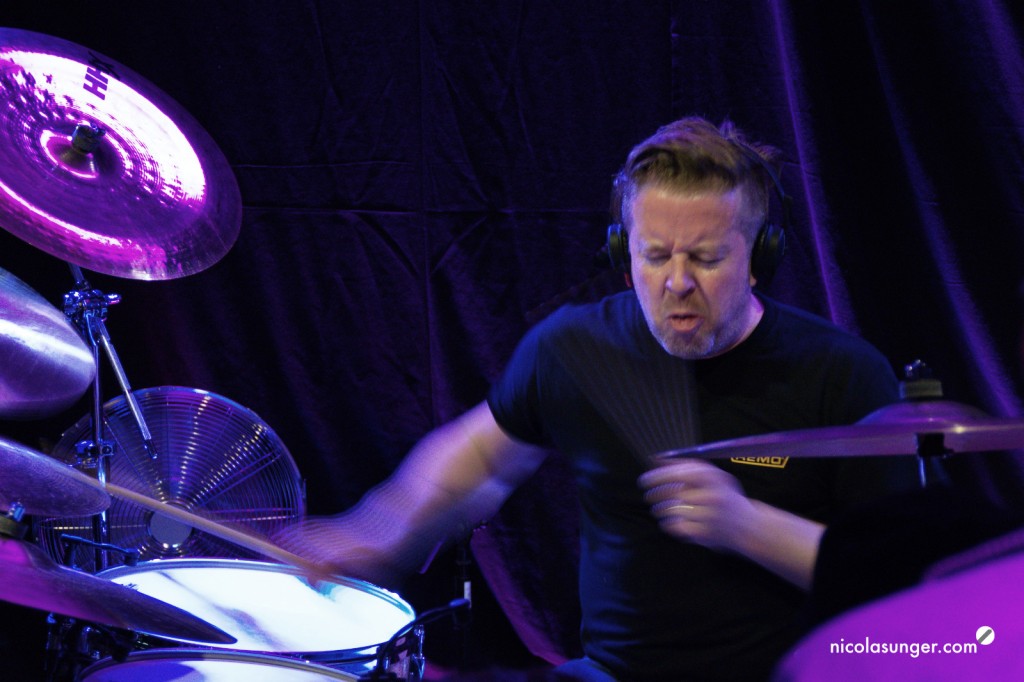 The Dead Daisies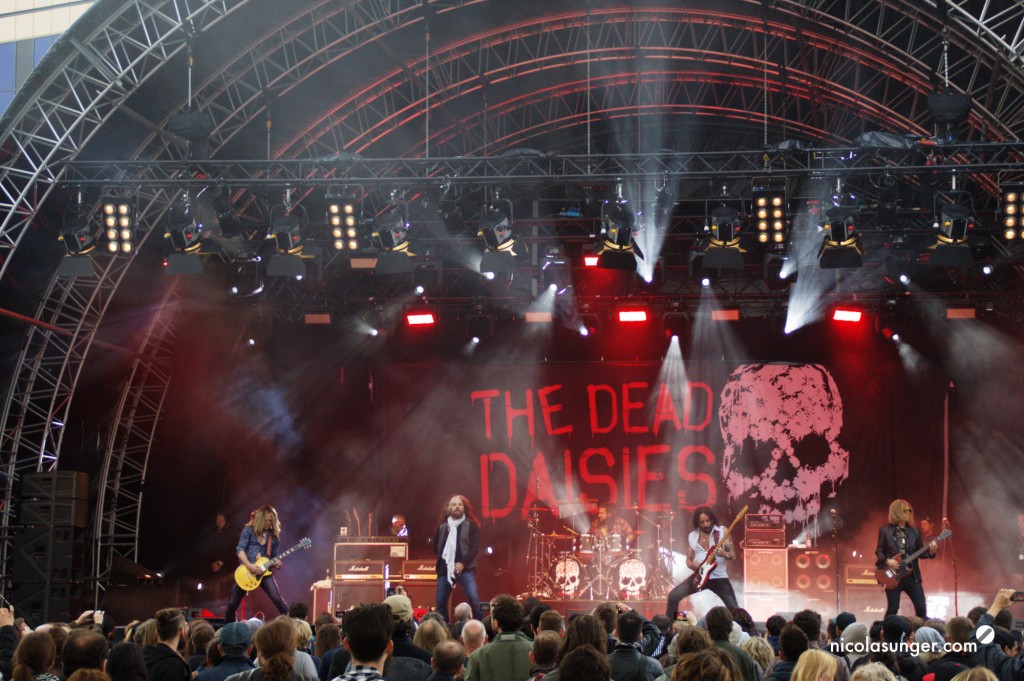 Brian Tichy (The Dead Daisies)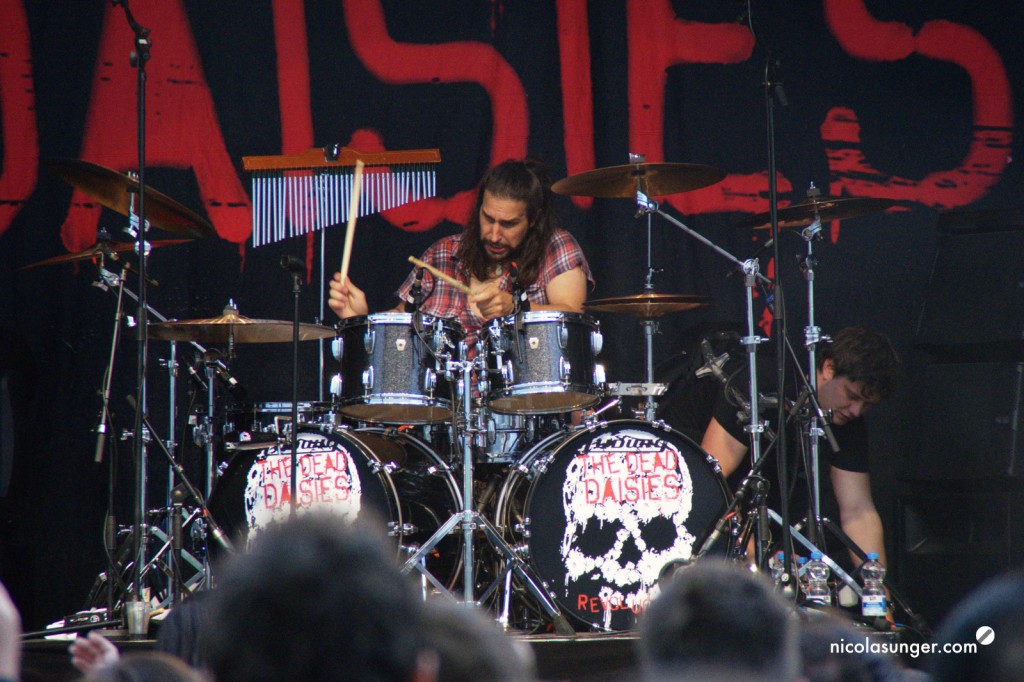 Jost Nickel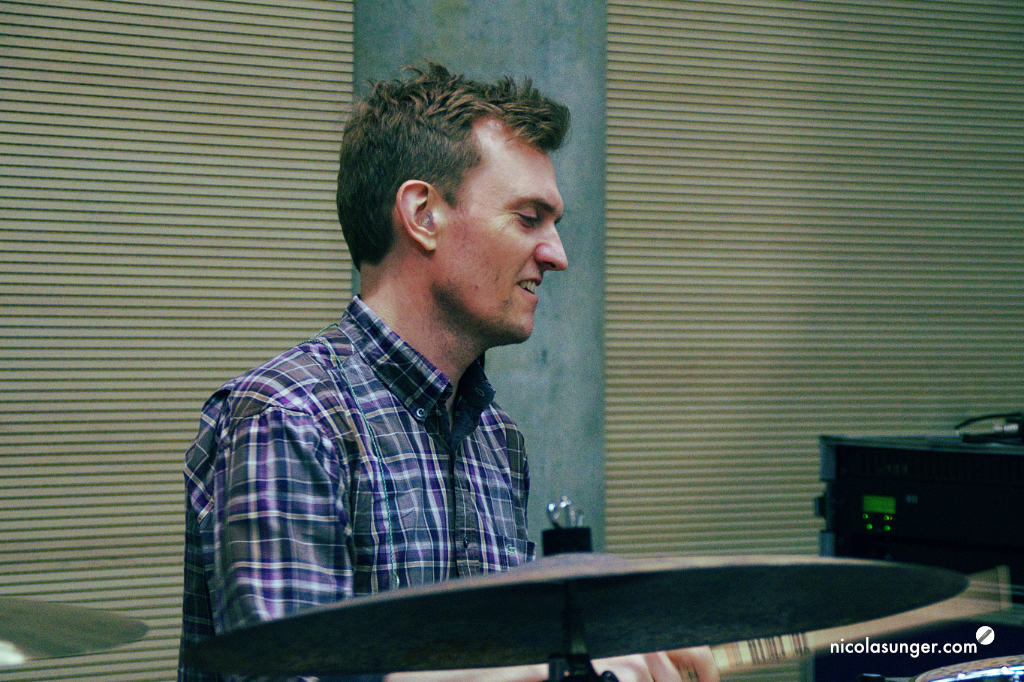 Paul Höchstädter with the "HR Radio Big Band"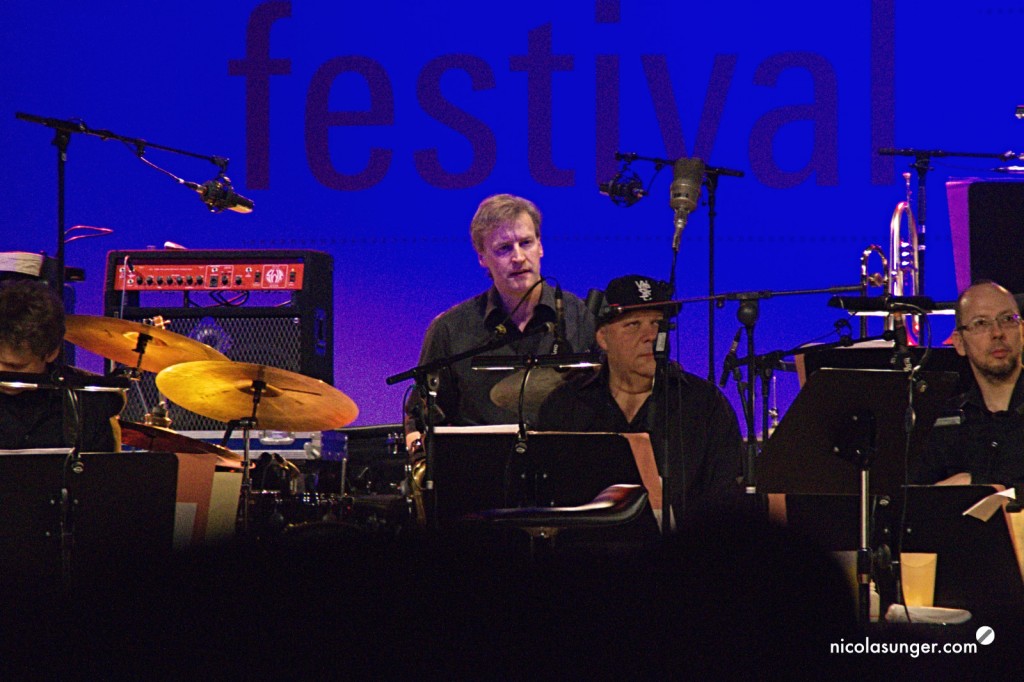 Al Jarreau – Paul Höchstädter on drums, Tony Lakatos (sax), Oliver Leicht (sax)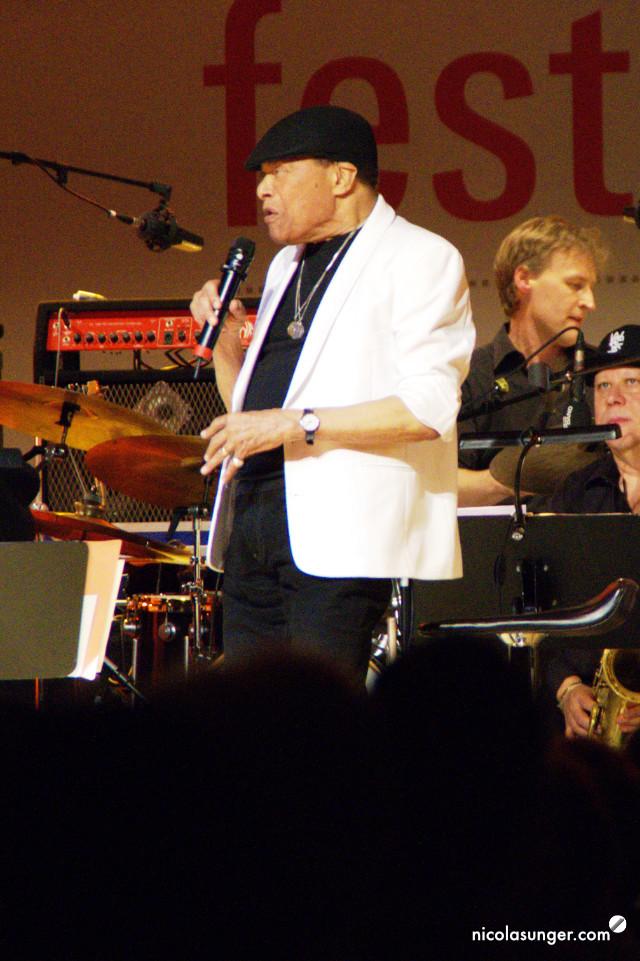 Selfies with three great people:
Peter Walsh gave a lecture about recording and mixing drums in a rock production: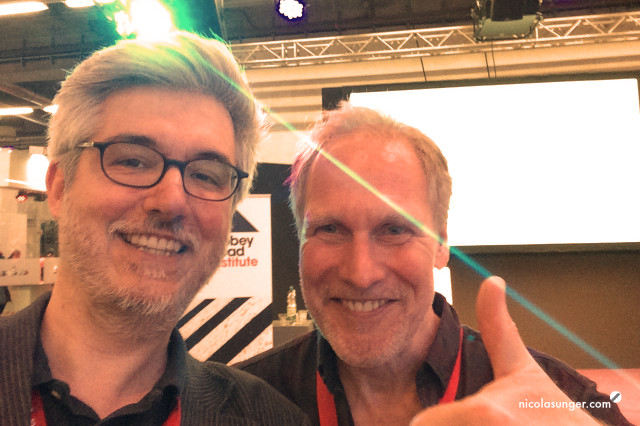 Manni von Bohr talked about drum tuning – Nice guy and detailed workshop! Thanks Manni!!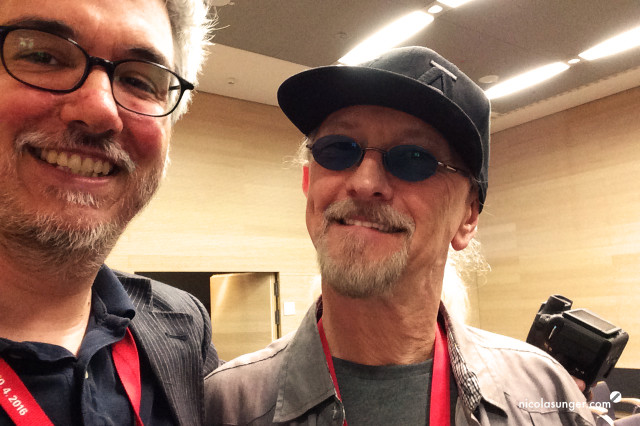 Christoph Krachten (german internet guru) gave a lecture about marketing and target audience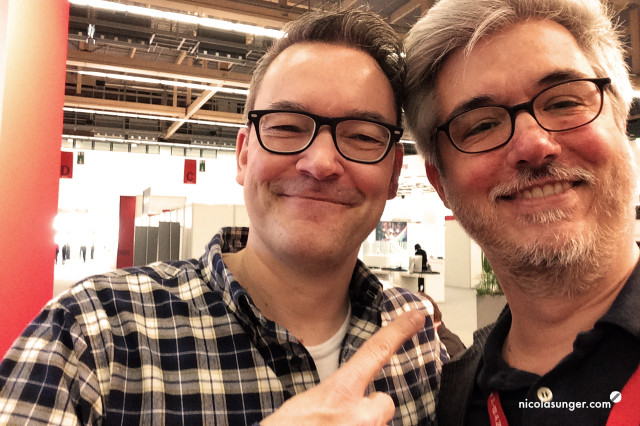 This is my report from Day 4 and this year´s Musikmesse Frankfurt 2016.
See you there next year (-:
Nicolas Unger
www.nicolasunger.com

Tweet